Why Kilis 7 Aralık University?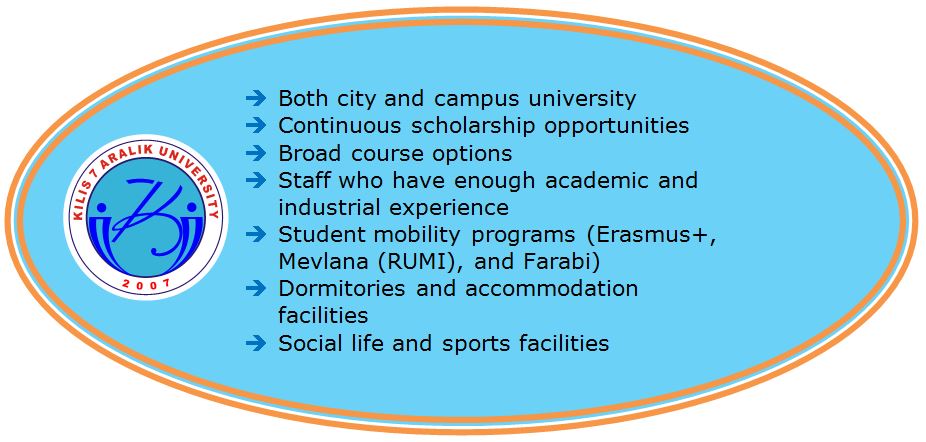 Kilis 7 Aralık University has been holding the Erasmus(+) University Charter since 2009. We implemented ECTS program for all faculties. Our strategy focuses on extending and improving of cooperation with foreign partners. The University recognizes a continued close involvement in LLP as essential to underpin and further develop its European strategy in a dynamic way. The introduction of ECTS in undergraduate programs has facilitated accreditation and the goals under curriculum development have been achieved. The University now plans to consolidate it existing exchange programs, and to ensure that they meet the Quality Assurance Agency's guidelines on placements. The University actively encourages our students to participate in EU students exchange programs and tries to remove barriers.

             The University provides a high level of support to incoming ERASMUS+ students as for all students registered in Kilis 7 Aralık University. This means that orientation programs are provided both by the University and individual departments, the incoming students have access to personal tutors and have the same teaching contract as their peers. The University recognizes the special needs of disabled students who can assess to all facilities.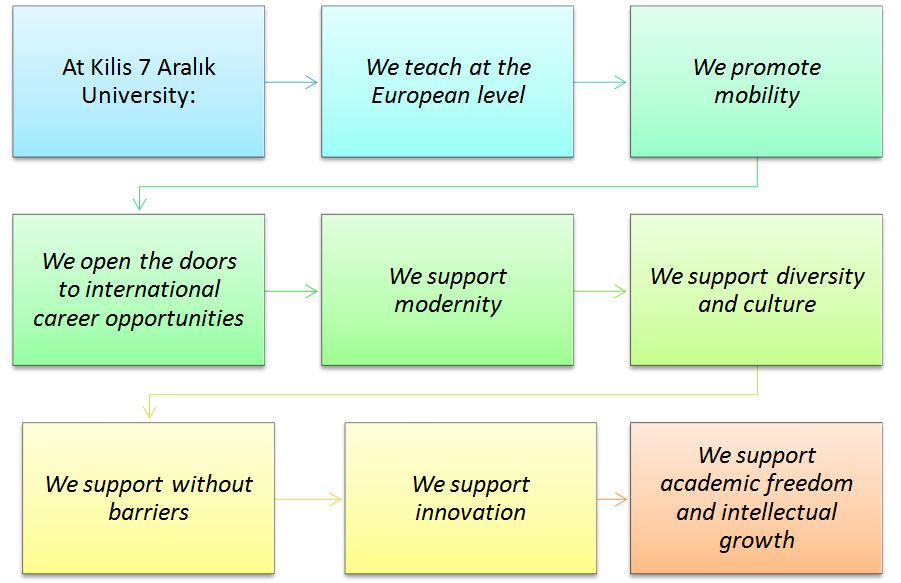 At Kilis 7 Aralık University, we believe that knowledge, innovation, creativity, and transferable skills are necessary factors for employment and our objective is to equip students with these qualifications and we are committed to providing you with a high quality and internationally focused education in Kilis, where the diversity of people and culture is the central. As a border city, Kilis is located in a position that opens the doors of multicultural atmosphere of Southern Anatolia and Middle East.
             With its highly qualified and internationally recognized faculty, you will have an education that expands your visions for life and career. Because Kilis 7 Aralık University participates in Bologna process, you will get a diploma and diploma supplement (DS) that are valid throughout the world.

Education Research and Practice Centers at Kilis 7 Aralık University

Continuing Education Center (KÜSEM)
Distance Education Center (KUZEM)
Agricultural Research and Application Center (TUAM)
Language Teaching Application and Research Center (DÖMER)
Research Center for Middle Eastern Studies
Application and Research Center for Computer Science
More Information about Kilis 7 Aralık University
Mission and Vision of Kilis 7 Aralık University
Introductory Video of Kilis 7 Aralık University
Kilis 7 Aralık University Booklet
Pictures from Kilis 7 Aralık University
Important Days and Festivals in Turkey
Disability Support Unit at Kilis 7 Aralık University
Take a Virtual Tour of Kilis 7 Aralık University
Kilis 7 Aralık University Information Pack for Incoming Erasmus+ Students

Son Güncelleme: 2014-04-02 09:44:27