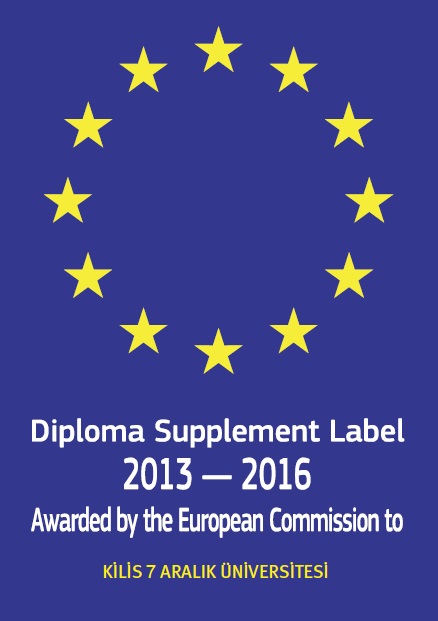 Grading System
 Associate's degree

 Students who complete 120 ECTS credits and have minimum 2.00 out of 4.00 grade point average (GPA) will have Associate's degree.
 Bachelor's Degree (B.A.)
 Students who complete 240 ECTS credits and have minimum 2.00 out of 4.00 grade point average (GPA) will have Bachelor's degree (B.A.).
  Ph.D. Degree
  The degree is awarded to students who have successfully completed all courses with a GPA of at least 3.00 out of 4.00, and prepared and defended a thesis.
ECTS System 

Kilis 7 Aralık University Grading System 

Best/Next

Grade 

 

Grade

 

Score

Grading in 4.0

 

10%

A

AA

90-100

4

 

10%

 

B

BA

85-89

3.5

15%

BB

80-84

3.0

30%

C

CB

70-79

2.5

25%

D

CC

60-69

2.0

10%

E

DC

55-59

 

 

1.5

 

 

DD

50-54

1.0

Fail

FX

FD

40-49

0.5

 

Fail

F

FF

0-39

0
Students who receive any of the grades CC or higher (CC, CB, BB, BA, and AA) are considered to have satisfactorily completed that course. Students who receive a grade of either DC or DD in one or more courses can only be considered successful if his/her Cumulative Grade Point Average (CGPA) is 2.00 or higher at the end of the semester. Student who receives FD or FF are considered unsuccessful. N/A means that the student never attended to courses and failed. Non-credit courses and applications (stage) are evaluated by S (satisfactory) and U (Unsatisfactory). The grades S and U are not considered while calculating CGPA.
Please note: A student can obtain 30 ECTS credits for a semester and 60 ECTS credits for an entire academic year.
Teaching and Learning Methods
The Teaching methods used at Kilis 7 Aralık University vary with class size. The early years can be characterized by large groups. Almost all the modules require smaller laboratory size interactive groups. For Erasmus+, if there are not enough students registered for the courses, we usually use individual study.
Son Güncelleme: 2015-06-26 10:42:23